Microelectronics
18.06.2014
ISD DAYS 2014
From 03/06/14 to 04/06/14 representatives of our company have visited the Netherlands in order to participate in a large-scale International conference "ISD DAYS 2014", organized by ESA (European Space Agency). Conference was held in Noordwijk in European Space Research and Technology Centre (ESTEC).
As part of an ambitious conference, 572 companies from around the world who are leading experts in the industry of aero-space technologies across Europe were presented. During the conference, all visitors who were interested in the sphere of work of our company had a unique opportunity to get acquainted with the specifics of our work, penetrating deeper into the world of microelectronics .
Number of B2B meetings was very productively planned, negotiations in order to search for new cooperation partners were conducted very intensive, as a result 38 productive meetings were realized, new contacts were established, our representatives got a lot of useful information connected with the development of aero-space industry technology worldwide, that could soon open up new opportunities for cooperation with the new countries, thereby expanding the sphere of work of the company RD ALFA Microelectronics.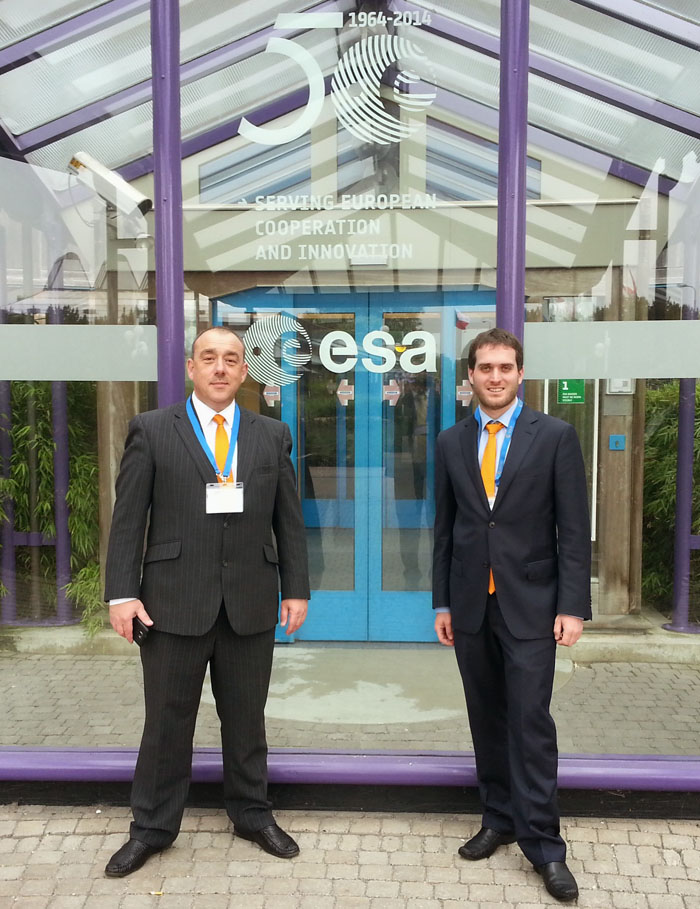 RD ALFA Microelctronics representatives Roman Makismov and Lev Lapkis at ESTEC main entrance
RD ALFA microelectronics received De minimis support for "Participation in the exhibition: Industry Space Days 2014".
Financial support was approved due to participation in the programme: "Space Technologies and Services Cluster 2012-2015" (project Nr.KAP/2.3.2.3.0/12/01/015, Agreement Nr.L-KAP-12-0006).