About us
//
Press about us
21.03.2012
RD Alfa Microelectronics supplies video transmission for bobsleigh surveillance
Article was published in the folowing security magainzes:
Government Security News - www.gsnmagazine.com , article in pdf format
Security News Desk - www.securitynewsdesk.com , article in pdf format
1stsecuritynews.com - www.1stsecuritynews.com, article in pdf format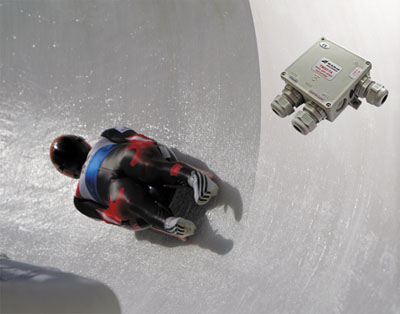 A premium bobsleigh track in Latvia, which is used for European and world championships, is benefiting from transmitter and receiver balun units manufactured by RD Alfa Microelectronics, of Riga, Latvia.
An Olympic training venue, the full 1,420-meter course has 16 curves around which competitors hurtle at 125 kilometers per hour. The track is home to luge as well as bobsleigh competitions, and tourists are offered a ride in a "soft bob" driven by experts.
Sigulda hosted the 2010 European Luge Championships in which the Latvian hosts won the mixed team relay. Sigulda will host the 45th World Championship of the International Luge Federation in 2015.
The bobsleigh venue at Sigulda in the Gauja Valley has a 21-camera analog CCTV system of both static and PTZ units from Samsung and Infinity. The cameras are used for competitor and spectator safety, general logistics and security surveillance.
In order that the venue should benefit from the engineering economies and cost benefits of untwisted pair (UTP) cabling, RD Alfa Microelectronics have supplied their Twist and Twist-2T transmitter and receiver balun products, which allow UTP transmission of video signals at distances of up to 900 and 1,800 meters, respectively. The main function of these products is to convert a video camera's signal into a differential video signal and the subsequent conversion of a differential stream into a standard single-ended signal.
Track officials also use footage from the CCTV system to dispatch competitors at appropriate times, observe traffic around the course, monitor crowd activity, respond to alarm situations and inspect the track prior to carrying out preventative maintenance.
A key part of the RD Alfa Microelectronics installation has been the company's Twist-Auto system which performs automatic frequency corrections of differential video signals to compensate for high-frequency losses in an extended video transmission line. The receiver has indicators for video signal presence and offers input protection from impulse current surges.
Roman Maksimov, regional sales manager at RD Alfa Microelectronics, said, "The many advantages of the balun and UTP approach over use of coaxial cable include minimizing on-site engineering time. Video cameras installed on this track use only two main multi-pair cables to transmit video signals. This significantly simplifies servicing the system and allows quick connection of new video cameras.
"The use of IP cameras on this track is impossible because of the high-velocity of the luges and bobsleighs," Maksimov continued. "Our approach is also 'green' in so far as analog cameras which are still fit for purpose can continue to operate but with UTP cabling."
The company's portfolio includes a project at the Riga shipyard which is a focal point of the whole Baltic sea region. Based in the Latvian capital of Riga, RD Alfa Microelectronics has a strong record in optimizing the use of video surveillance at sporting venues and infrastructure sites. Founded in 1962, RD Alfa Microelectronics designs and manufactures a wide range of products, including twisted pair transceivers, amplifiers and baluns for transmitting video over UTP cable.